Spanish B.A. Recipient of Fulbright Award!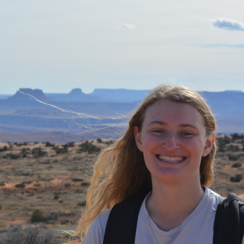 Alison Shimko, Spanish B.A., May 2017, received a highly competitive Fulbright U.S. Student Program grant from the U.S. Department of State and the J. William Fulbright Foreign Scholarship Board for the 2017-2018 academic year. This prestigious award will allow her to teach English in the La Rioja region of Spain.
Recipients of the Fulbright award serve the long-term interests of the United States by generating relationships and goodwill globally. Fulbright scholars are selected after a competitive process where academics and professional achievements are considered, as well as demonstrated leadership and service to the community.
On how her Spanish BA empowered her to apply for the Fulbright and provided her the necessary skills to become a scholar, she said, "The faculty in the [WLC] department have been so supportive and helpful through my undergraduate career and through the Fulbright process. They've always been willing to sit down and talk with me about anything, in Spanish and English. They really try to bring the elements of culture to the classroom and have students understand the current and past people of Spanish/Hispanic decent. The history is presented in such a fascinating way that it made me want to see and experience it firsthand. It's been great to have faculty in a department wanting you to succeed and learn more than the material presented in class. Spanish is more complex than just a language and I've learned so much about different cultures, customs, and traditions through all of my different courses that will help me better understand the language and the people of Spain."
Congratulations to Alison! We hope any student interested in becoming a Fulbright Scholar will consider studying a language and majoring within World Languages and Cultures and other departments in the College of Humanities