Anne Lair Honored by Republic of France's Ministry of National Education for Work in French Language and Culture Teaching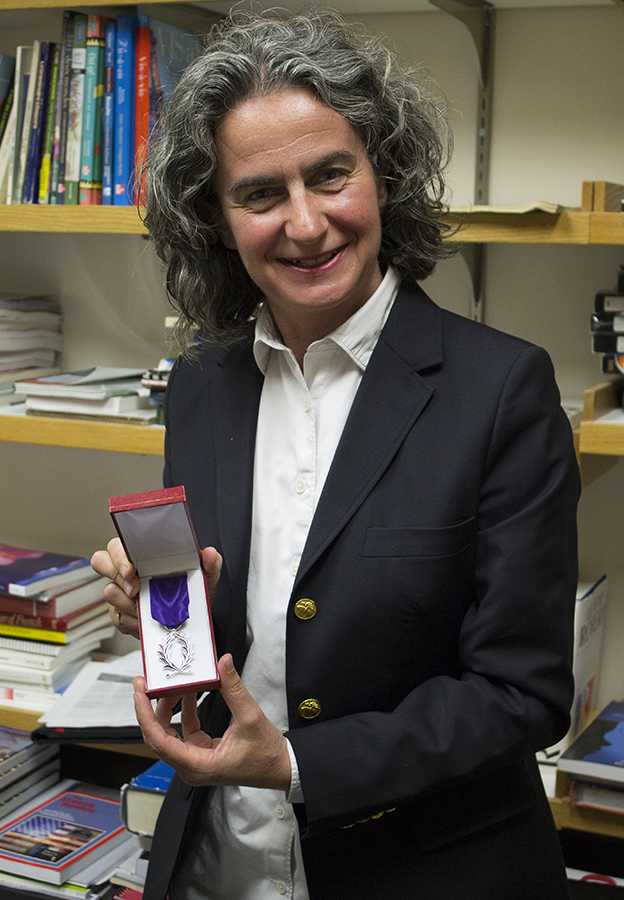 Anne Lair, Associate Professor/Lecturer of French in World Languages & Cultures and in the College of Humanities' Second Language Teaching and Resource Center (L2TReC), has been recognized as Chevalier dans l'Ordre des Palmes Académiques (Knight in the Order of Academic Palms) by the Ministry of National Education of the Republic of France. The Order of Academic Palms is a national order and medal created by Napoleon Bonaparte in 1808 to recognize outstanding members of the University of Paris. In its modern form, the award may be granted to individuals making extraordinary achievements in the realms of French education and culture.
Professor Lair studied at The Ohio State University where she earned a Ph.D. in 19th-century French culture and literature. While at Ohio State, she developed a passion for education, with a strong interest in pedagogy and the teaching of culture. Anne first held a tenured position at the University of Northern Iowa before joining the University of Utah in 2012.
"When I first started teaching as an assistant professor in 2003, my goal was to make a difference in the classroom with my students, but also with my colleagues. "The University of Utah showed me it is the land of opportunities for languages and for building," said Lair. "I am from a family of builders, and although I don't build houses or universities, the Dual Immersion Program and the French Basic Language Program have allowed me to build curricula and to work with so many talented people. Giving workshops for my French colleagues through L2TReC is what I look forward to every summer."
Lair began working on the elementary-age portion of the Dual Immersion Program in July of 2013. In the Fall of 2014, she began working with teachers and writing the curriculum for the secondary level of the program, putting her in charge of 7th-12th grade secondary French dual immersion at the state level. Starting July 1st, 2017, Anne will be the director of the French Bridge Program. She is also the director of the French Basic Language Programs at the U, overseeing both first and second year classes, all while teaching upper-division French classes.
She served for three years as the President of the Alliance Française in Utah, and has recently been accredited as the Honorary Consul to France in Utah.
Lair was presented with her medal on May 30, 2017, by the Consul General of the French Consulate in San Francisco, Mr. Emmanuel Lebrun-Damiens.