Culture Shock/Shock Culture
A lecture and workshop with Professor Diana Taylor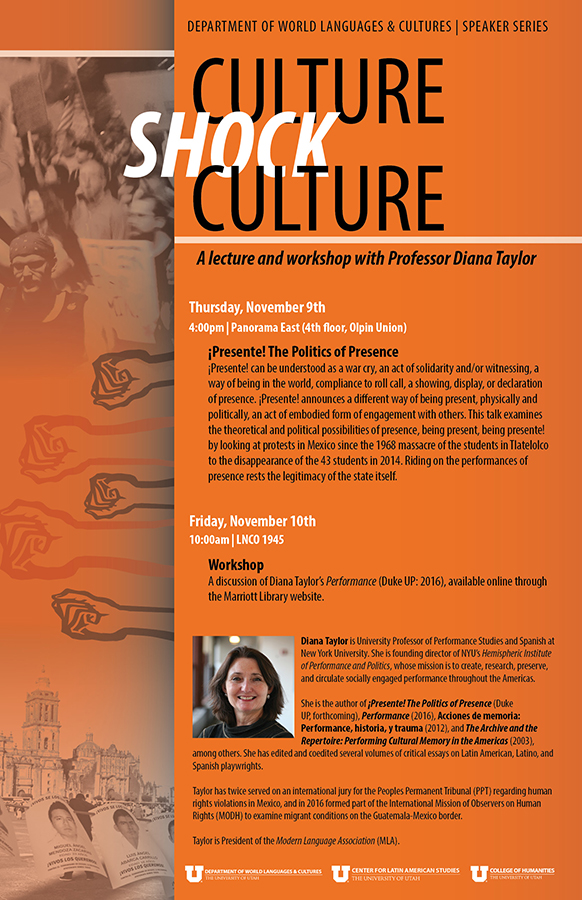 Thursday, November 9th
4:00pm | Panorama East (4th floor, Olpin Union)
¡Presente! The Politics of Presence
¡Presente! can be understood as a war cry, an act of solidarity and/or witnessing, a way of being in the world, compliance to roll call, a showing, display, or declaration of presence. ¡Presente! announces a different way of being present, physically and politically, an act of embodied form of engagement with others. This talk examines the theoretical and political possibilities of presence, being present, being presente! by looking at protests in Mexico since the 1968 massacre of the students in Tlatelolco to the disappearance of the 43 students in 2014. Riding on the performances of presence rests the legitimacy of the state itself.
Friday, November 10th
10:00am | LNCO 1945
Workshop
A discussion of Diana Taylor's Performance (Duke UP: 2016), available online through the Marriott Library website.
Diana Taylor is University Professor of Performance Studies and Spanish at New York University. She is founding director of NYU's Hemispheric Institute of Performance and Politics, whose mission is to create, research, preserve, and circulate socially engaged performance throughout the Americas.
She is the author of ¡Presente! The Politics of Presence (Duke UP, forthcoming), Performance (2016), Acciones de memoria: Performance, historia, y trauma (2012), and The Archive and the Repertoire: Performing Cultural Memory in the Americas (2003), among others. She has edited and coedited several volumes of critical essays on Latin American, Latino, and Spanish playwrights.
Taylor has twice served on an international jury for the Peoples Permanent Tribunal (PPT) regarding human rights violations in Mexico, and in 2016 formed part of the International Mission of Observers on Human Rights (MODH) to examine migrant conditions on the Guatemala-Mexico border.
Taylor is President of the Modern Language Association (MLA).