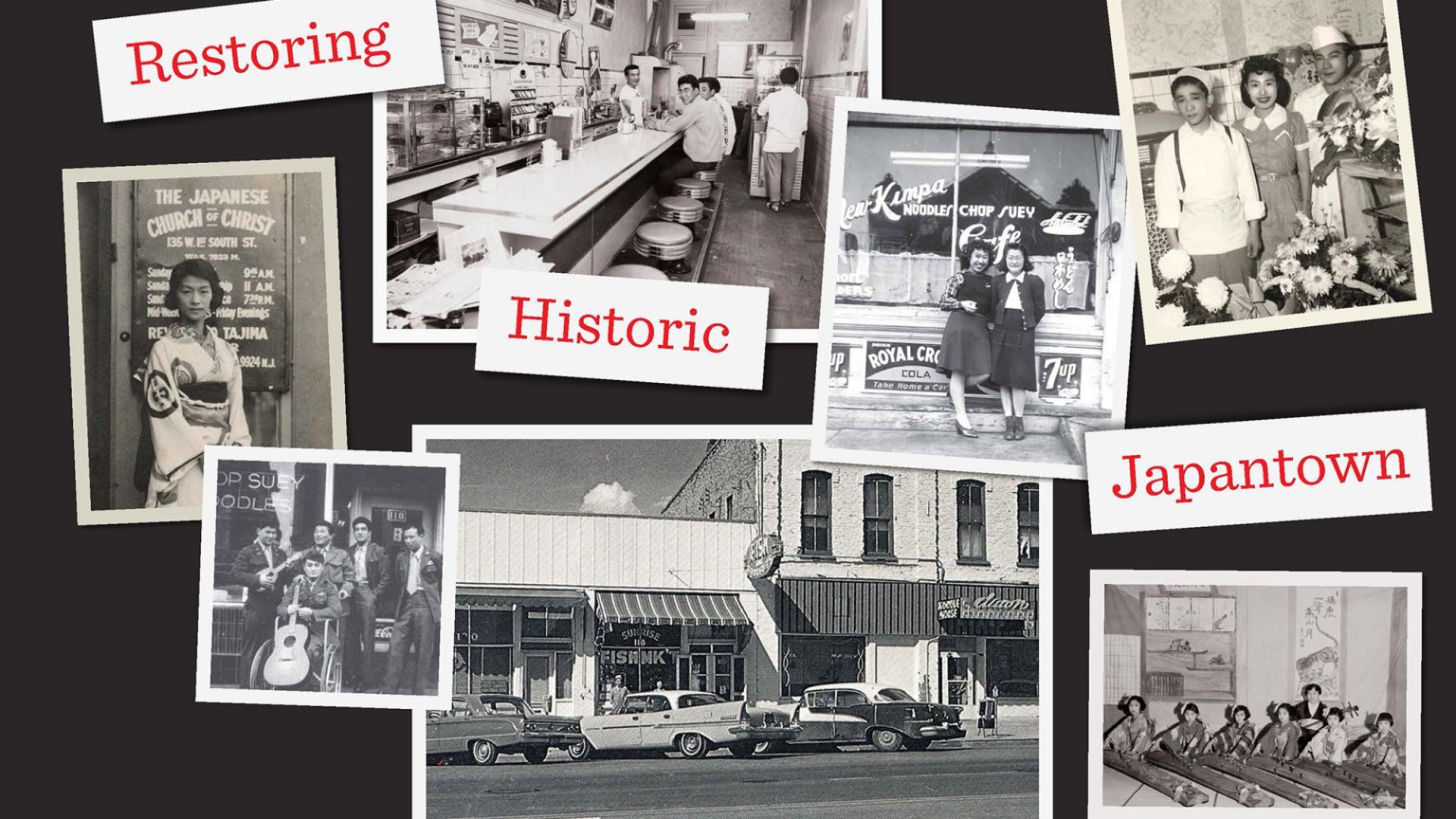 This story originally appeared in University of Utah Magazine.
There's a street in downtown Salt Lake City serving as an urban archive with generations of stories written in brick and concrete. Near the Salt Palace Convention Center and the Vivint Arena, it stretches from Second to Third West on 100 South, bookended by the Japanese Church of Christ and the Salt Lake Buddhist Temple—the remnants of a once-thriving Japantown chronicling the Japanese American community's 100+-year fight to save the celebrated space and preserve their history.
The latest struggle to safeguard this community space began in 2018, when a development dubbed the West Quarter project was proposed and included frontage on the southwest portion of what had come to be named Japantown Street. The massive multi-use high-rise buildings are designed to host commercial and residential spaces, and they had reserved their trash, recycling, and loading docks for Japantown Street—relegating a portion of the block to a back alley. With involvement from the State, Salt Lake County, and the city, the project also included millions in public funding for a large parking structure.
"For Japanese Americans in Utah, it was painful history repeating itself," says Jani Iwamoto BS'82, Utah state senator and former Salt Lake County Council member. Iwamoto was a founding member of the Japanese Community Preservation Committee in the early 2000s and has advocated for Japantown since. A coalition of public, private, and community stakeholders—including Iwamoto and other U alums you'll hear from here—collaborated to improve the West Quarter project and made plans to revitalize and strengthen Japantown, looking for ways to honor the history of the neighborhood while transforming it into a pedestrian-friendly hub for festivals, celebrations, and Japanese-centered businesses.
Okage sama de: "I Am Who I Am Because of You"
Japanese immigrants came to Utah primarily as railroad, agricultural, and mine workers in the late 1800s. In 1902, former railroad worker Edward Daigoro Hashimoto launched the E.D. Hashimoto Company near 100 South as a labor agency and to provide Japanese food, clothing, and other items and services that many Japanese residents sought. In less than a decade, more than 2,000 people of Japanese heritage had moved to the area. By 1925, the Japanese Church of Christ and the Buddhist temple were built where they still stand today. Dance studios, two newspapers, a Japanese language school, and other stores, restaurants, and gathering spaces sprawled across several blocks in what became known as Japantown.
The community changed drastically during and after World War II. President Franklin Roosevelt signed Executive Order 9066 in 1942, relocating more than 120,000 West Coast Japanese Americans to internment camps, including to the Topaz War Relocation Center near Delta, Utah. Anti-Japanese sentiment and harassment rose dramatically, only increasing after many of those displaced from the West Coast relocated to Utah's community. In the mid-1960s, two core blocks of Japantown were razed to build what would become the Salt Palace arena, and many business owners had to either close shop or move to other parts of the city. This was part of an urban renewal wave that gutted neighborhoods across the country—largely targeting communities of color.
"I've heard about Japantown from my parents and their friends my whole life. Everybody went there—it was thriving—but the Salt Lake arena decimated it," says Iwamoto. "I'm happy that we can move forward, but it's really important that we honor the past and the people that came before us who made Japantown."
Iwamoto recalls attending a funeral for a friend of the family in Japantown and seeing the evidence of encroachment and disregard. "Semitrucks were in the middle of the road, and crates were scattered blocking everything," she notes. "It's not that our community is against development, but we were never part of the discussion, and it always impacts us negatively."
In subsequent years the community continued to advocate for their space. The Salt Palace expansion in 1996 and the early 2000s spurred Iwamoto, Third District Court Judge Raymond Uno B.S. '55 J.D. '58 MSW '63, and others to form the Japanese Community Preservation Committee (JCPC). They led a coalition to mitigate negative impacts—including building gates to hide loading docks, and a Japanese garden as a safety buffer for increased semitruck traffic—and got this section of First South officially named "Japantown Street." However, the expansion made its mark.
As Iwamoto and others envision the future of this important community space, they are guided by the Japanese saying Okage sama de, or "I am who I am because of you." This fundamental tenet has steered efforts to create a space of remembrance and respect that thrives over time and is a place of inclusion.
More seats at the table
When the JCPC first heard about plans for the West Quarter development, they took their concerns to the Redevelopment Agency of Salt Lake City (RDA), a municipal organization that bolsters investment in projects aimed to address the unique needs of Salt Lake City's diverse neighborhoods. The RDA funded and managed an in-depth facilitation process to figure out what could be done to mitigate the impacts of the project and enhance Japantown Street.
Corinne Piazza MCMP '16, project manager at the RDA, was a key figure in managing the facilitation process with the project stakeholders, including the West Quarter developers, Salt Lake County, Salt Lake City, and the Japanese American community.
"The practice of urban renewal in the '60s was a dark time in our history," says Piazza. "For this project, it was so important to create a seat at the table for traditionally excluded voices."
After five months, all parties committed to what's known as good neighbor agreements, adjusting plans to improve the project design and respect the cultural activities and history of the street. In addition, the RDA put forth $100,000 and initiated a Japantown visioning process in partnership with the Japanese American community to address a range of priorities, implementation, maintenance cost estimates, and best practices for future management, and signed on Salt Lake City-based GSBS Architects as the design consultant.
For Valerie Nagasawa B.S. '90 B.S. '91 MAR '93, a principal at GSBS Architects who worked on the redesign, the project was more than a job. Her husband's family owned the Sunrise Fish Market, a community staple of Japantown that was demolished to make way for the Salt Palace.
"Most Utahns are so disconnected from this history. The street wasn't even named Japantown Street until 2007," says Nagasawa. "It took staying power and determination to keep even a remnant of the street, the churches, and festivals."
In partnership with the RDA, GSBS planned a 15-month community engagement process by organizing events and holding regular meetings with the Japantown Steering Committee, made up of Iwamoto, Judge Uno, and former director of planning and development for Salt Lake County Rolen Yoshinaga. The steering committee represented a larger committee of nearly 30 Japanese American community members who helped develop a set of guiding principles for GSBS to follow in articulating a design concept for the street.
"It was a turning point when a community member shared the phrase Okage sama de," says Nagasawa. "It was a way to celebrate what the pioneers of Japantown did to build a community. But they didn't just want a historical exhibit—they were thinking about the younger generations."
The community and GSBS were inspired by the smells, colors, textures, and other aspects of Japanese design and celebration. The street will feature art and placemaking elements such as cherry trees, origami sculptures, interpretive signage, and pavement markings that reflect traditional Japanese patterns. The street will be optimized to accommodate seasonal festivals and events and enrich the pedestrian experience. And GSBS Architects did extensive research on other successful Japantowns in Denver, San Jose and San Francisco to understand how they're funded and managed.
As the Japantown Steering Committee presents the plan to the wider community, the revitalization will be done in stages, rather than waiting to raise all the public and private funds for the project.
Greater than a throughway
Community-based design means considering not just the needs of today, but what will best serve future generations, says U College of Architecture + Planning Dean Keith Diaz Moore. "Our college is the first in the nation to espouse an 'ethic of care' that emphasizes the responsibility to learn and respect the health and culture of our communities, sustainability standards, and innovation. It's so gratifying to see our graduates take positive action in the community," notes Moore.
Some of the project's challenges include accounting for historic churches and other existing buildings, all with the back end of the Salt Palace abutting one end of the street, says Salt Lake County Council member Darin Mano B.A. '08 B.S. '08. Since 2013, he's been the emcee for the Nihon Matsuri Japan Festival, one of Japantown's largest celebrations, and he has a unique perspective as an architect who grew up in the local Japanese American community.
The community, architects, and other partners are up for the challenge. "There are some streets you drive through, and there are some that are a destination in themselves," notes Mano. "Japantown Street should be a destination."
For Iwamoto, the Japantown revitalization project is just one way of honoring Japanese Americans in Utah. At this year's legislative session, Iwamoto sponsored a bill that made Feb. 19 an official Day of Remembrance on the anniversary of Executive Order 9066, an egregious violation of civil rights for the tens of thousands of Japanese Americans who were forced into internment camps.
"Looking at the rise in anti-Asian hate, thinking about the discrimination that my parents went through, it's just so important that we remember the past—even when it's not comfortable," remarks Iwamoto. "Unfortunately, history does repeat itself—and that's why we keep these stories alive. Hopefully, we can rebuild Japantown, and it can be something for our entire state to celebrate and remember."