Exhibiting Transgender Histories from Germany and the United States, 1882-1966
Michael Thomas Taylor, Reed College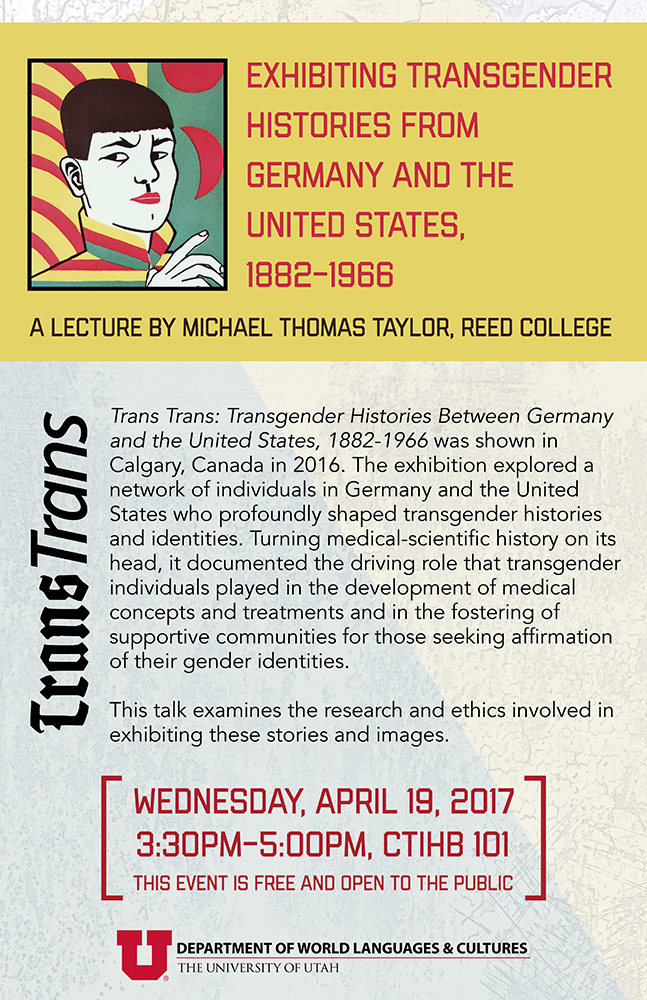 Trans Trans: Transgender Histories Between Germany and the United States, 1882-1966 was shown in Calgary, Canada in 2016. The exhibition explored a network of individuals in Germany and the United States who profoundly shaped transgender histories and identities. Turning medical-scientific history on its head, it documented the driving role that transgender individuals played in the development of medical concepts and treatments and in the fostering of supportive communities for those seeking affirmation of their gender identities. Drawing from archives in Berlin and the United States, the exhibition reconstructed personal connections that unfolded across the Atlantic, and it followed the ways in which photographs and other images were made by trans individuals and sent to magazines or doctors for publication, creating communities and making visible their identities in public and private.
This talk examines the research and ethics involved in exhibiting these stories and images.
Wednesday, April 19, 2017
3:30pm – 5pm
CTIHB 101
This event is free and open to the public.
Speaker's Bio:
Michael Thomas Taylor received his B.A. in German from the University of Utah in 1999 and his Ph.D. in German from Princeton University in 2007. From 2007 – 2012, he taught at the University of Calgary as an Assistant Professor of German and he is currently Associate Professor of German and Humanities at Reed College in Portland, Oregon. Together with Rainer Herrn (Berlin, University Clinic Charité) and Annette F. Timm (University of Calgary), he has co-curated two exhibitions including Trans Trans (2016) and PopSex! Science, History, Culture, Art (2011). A volume documenting PopSex! will appear this year with the University of Michigan Press. He has also published work on German literature and aesthetic theory and on the history of marriage in the eighteenth and nineteenth centuries in Germany, including the co-authored book Vor der Familie: Grenzbedingunen einer Institution (Before the Family: Limits of a Modern Institution, Konstanz University Press, 2010).